尊敬的客戶:
我們得知有Facebook專頁假冒我們公司,冒用我們公司的名義進行詐騙活動,對此我們深感遺憾和憤慨。我們在此向所有客戶鄭重聲明:我們的公司只有一個正式的Facebook頁面,即Travel Lovers by Any Tours (https://www.facebook.com/travellovers.anytours ),其他任何頁面或帳戶均不屬於我們公司。
我們已經採取了一系列措施,包括向Facebook平台及旅遊業監管局提交申訴、向警方報案等,以保障客戶的合法權益和維護公司的聲譽。同時,我們也向所有客戶提醒,在選擇旅行社和預訂旅行產品時,請務必仔細檢查旅行社的官方網站、社交媒體賬號等資訊,以免受到不法分子的欺騙和損失。
我們一直秉承著誠信、專業、負責任的服務宗旨,為廣大客戶提供優質的旅行產品和貼心的服務。我們將一如既往地堅持這一宗旨,為客戶提供最好的旅行體驗和最優質的服務。
謝謝大家對我們公司的支持和信任!
天洋旅遊有限公司Any Tours Enterprises Limited
旅行社牌照號碼:350403
電話號碼:2724 1212
公司地址: 香港新界沙田石門安心街19號匯貿中心13樓19室
————————————————–
假冒詐騙Facebook page名單:
LOCAL Travel Booking SITE
(https://www.facebook.com/profile.php?id=100063591952790)
Travel the world in luxury
(https://www.facebook.com/dhakashopo)
Travel the world
(https://www.facebook.com/profile.php?id=100022001471721)
Any Tours Enterprises Limited
(https://www.facebook.com/DilrubaRosyAmarEklaDupur)
Friday Travel agency
(https://www.facebook.com/profile.php?id=100044254038179)
L want to travel
(https://www.facebook.com/profile.php?id=100072471139876)
Tourism capital
(https://www.facebook.com/profile.php?id=100063519978601)
Travel every day
(https://www.facebook.com/wasiqmalik133)
=================================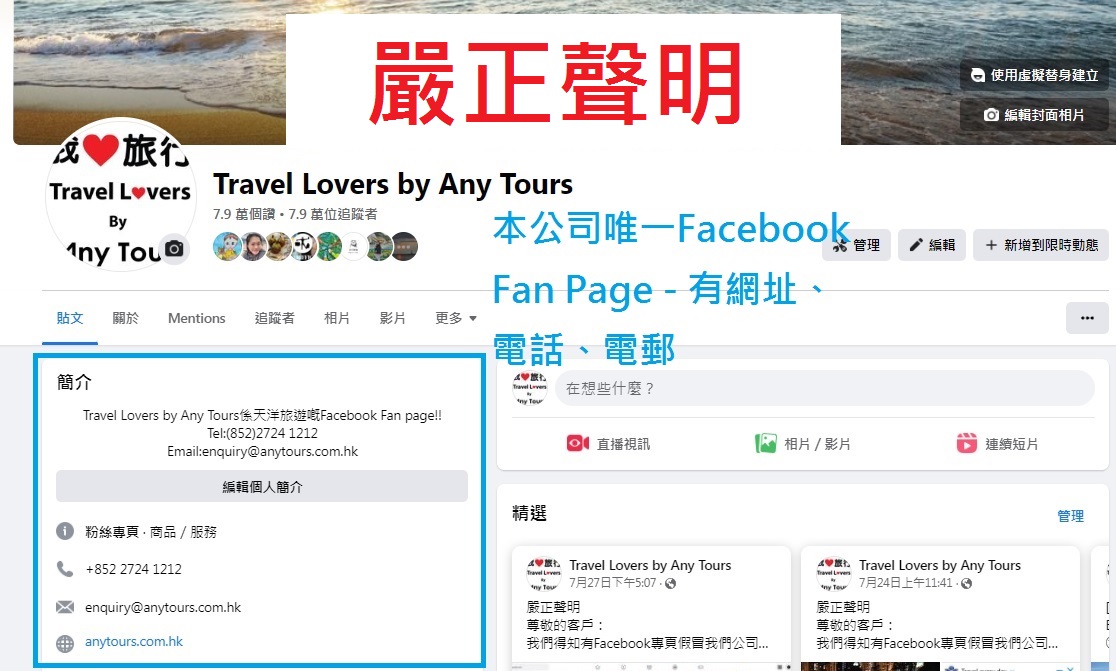 Solemn Statement
Dear customers,
We have learned that there are some facebook pages impersonating our company on Facebook and engaging in fraudulent activities under our company name. We deeply regret and feel outraged about this situation. We hereby solemnly declare to all our customers that our company has only one official Facebook page, which is Travel Lovers by Any Tours (https://www.facebook.com/travellovers.anytours ). Any other pages or accounts claiming to be associated with our company are not legitimate.
We have taken a series of measures, including reporting to the Facebook platform and filing a case with the Travel Industry Authority and the police, to protect the legal rights and interests of our customers and maintain the reputation of our company. At the same time, we also remind all customers to carefully check the official website and social media accounts of travel agencies when choosing and booking travel products to avoid being deceived by illegal individuals and suffering losses.
We have always adhered to the service tenet of honesty, professionalism, and responsibility, and provided high-quality travel products and thoughtful services to our customers. We will continue to uphold this tenet and provide our customers with the best travel experiences and highest quality services.
Thank you for your support and trust in our company!
Any Tours Enterprises Limited
Travel License No: 350403
Tel: 2724 1212
Website: www.anytours.com.hk
Address: Unit 19, 13/F., New Commerce Centre, 19 On Sum Street, Shek Mun, Sha Tin, N.T., Hong Kong
————————————————–
假冒詐騙Facebook page名單:
LOCAL Travel Booking SITE
(https://www.facebook.com/profile.php?id=100063591952790)
Travel the world in luxury
(https://www.facebook.com/dhakashopo)
Travel the world
(https://www.facebook.com/profile.php?id=100022001471721)
Any Tours Enterprises Limited
(https://www.facebook.com/DilrubaRosyAmarEklaDupur)
Friday Travel agency
(https://www.facebook.com/profile.php?id=100044254038179)
L want to travel
(https://www.facebook.com/profile.php?id=100072471139876)
Tourism capital
(https://www.facebook.com/profile.php?id=100063519978601)
Travel every day
(https://www.facebook.com/wasiqmalik133)
=================================